EverQuest
Edit
Welcome to
EverQuest ®
- the online game that started it all! No other MMO matches EverQuest's content that includes 20 expansions, plus the original base game. Now, in its unprecedented fifteenth year, EverQuest continues to add immersive gameplay, captivating storytelling and exciting worlds full of mystery and adventure.
EverQuest is Free to Play. Your Way.™ Join a thriving community unlike any other online game, immerse yourself in hundreds of unique zones, battle thousands of creatures, and complete exciting quests. Group with friends and experience an online game the way it should be, epic and legendary.
EverQuest II
Edit
EverQuest II
is the epitome of massively multiplayer gaming - the ultimate blend of deep features, heritage, and community.
Explore an enormous online world where friends come together for adventure and community. Immerse yourself in the game's exciting locales, mysterious lands, intense battles, exciting quests and amazing achievements. Featuring breathtaking graphics and a vast, beautiful and dangerous game world to explore, EverQuest II sets the standard for MMORPG online gaming. Now, you can experience EverQuest II Free to Play. Your Way!™

Have you ever wanted to build a game?
Landmark
gives you all the tools you need to design anything you can imagine. Your creations could even end up as a part of EverQuest Next.
EverQuest Next
Edit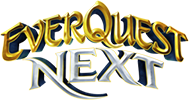 EverQuest Next
is a complete reimagining of the
EverQuest
Franchise. Old friends and enemies will appear — but they may not be who you remember. With 10,000 years of explorable history buried beneath its surface and a future you will shape, this is your Norrath.
Community content is available under
CC-BY-NC
unless otherwise noted.